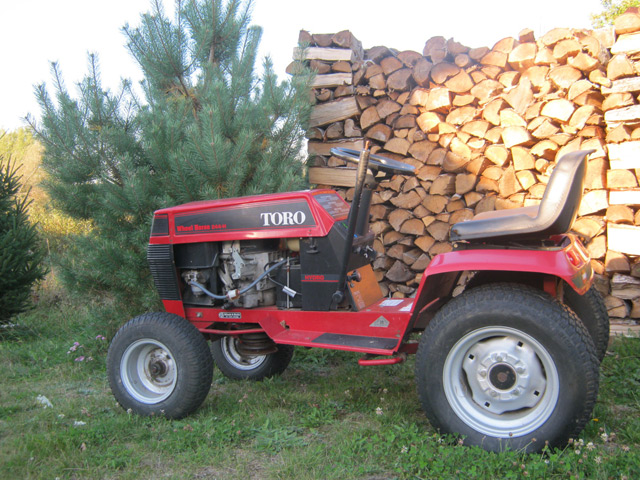 I currently own a 1992 Toro Wheelhorse 244-H, with a 12 HP engine and 36″ mower deck. I would love some more attachments for this, but it looks like all of the really cool attachments were for the model one up from mine. I'm not sure if it is possible to mount them on the 244-H frame… that would be cool (there is a snow-thrower, and tiller that I really want).
This little garden tractor has saved me a lot of work. That 7'x7'x7′ was half a year's worth of firewood and hauling all of that wood would have been a real nightmare if it wasn't for being able to hook up a trailer, load it and drive the wood to where I needed to stack it.
I love my little Wheel Horse.
<figcaption class="wp-caption-text">1992 Toro Wheel Horse 244-H (22-14OE02)</figcaption></figure>
Engine
</span>
Model: E140V-N/10964B
Serial: B913775714
Starter
</span>
I have had to replace the starter solenoid on this engine once.
Model:
Starter Solenoid
</span>
Model:
Mower Deck
</span>
Model: 05-38SS01
Serial: 1051367
This is a 38″ recycler mower.